Care Management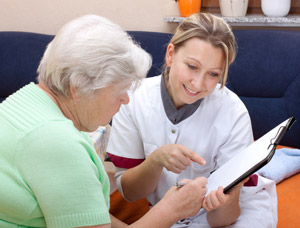 At West Front Primary we understand that there is more to patient care than treating illness or injuries, and keeping you healthy requires more than the right medicines or immunizations. We recognize that at every stage of health or illness, our patients are impacted emotionally and socially. We strive to treat each patient as an individual, and have expanded our team to do more. Care managers are a part of our health care team here at West Front Primary Care.
Care Management Might Prove Beneficial If:
You find yourself with questions about your medicines or treatment, even after visiting with your provider
You have been trying to make changes to your diet, exercise or lifestyle to benefit your health or control a disease, but are not able to make those changes stick
You don't understand why you're taking some of your medications
You have multiple providers involved in your care, but it sometimes appears that some don't know what the others are doing
How Can a Care Manager Help Me?
There are 3 main benefits to having a care manager involved in your healthcare:
Having a Personal Health Coach
A Care Manager helps you identify ways to improve your health and wellness. How best to treat your health issue, or continue to stay healthy, is not always easy to understand. Even if you do understand, changes can often seem overwhelming. Having someone help you better understand your treatment, or break big changes down into more manageable pieces over time, can make it easier to form new habits. This coaching role supports our patients, and helps them find success.
Improved Communication
As your health care needs change, so does the course of treatment. Care managers improve the communication between you, your family, and your provider, to treat the medical, social and emotional issues that may arise from changes in your health. Care managers can help you voice concerns you may have that are otherwise difficult for you to express to your providers.
Coordination of Care
When our patients receive care outside of our practice, it can be challenging to keep that care consistently focused on your individualized needs. Your primary care team understands your needs best, and must be included in all communication. Examples can include specialist offices, community resources, home care and the hospital. Our Care Managers will help you access and coordinate the care you receive outside of our practice, and work to keep your needs the primary focus.
What is a Care Manager?
Care Managers are professionally trained nurses and social workers with expertise in helping you and your family cope more effectively with the challenges that come with staying healthy, and managing illness.
How Can I Start Working With a Care Manager?
Start by contacting your provider by telephone, by email, or during your next appointment. Talk with them about your concerns and they will help connect you with a Care Manager